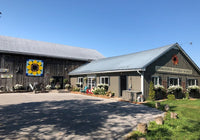 Welcome to the Cookstown Antique Market Online Shopping Center!
Please use this website as your online gateway to our Antique Market that you know and love.
We are proud to offer our dealers a chance to showcase some of their most interesting pieces using an easy-to-order system.  
View Dealer Catalog
BUY YOUR TICKETS TODAY!
Join us to enjoy some after-hours shopping at Cookstown Antique Market with a Victorian Christmas theme. Feel free to dress up for the event!
You will have access to special pricing, a signature beverage and some sweet home made treats. Stay tuned, as we may also have a very special appearance from a local choir.
Tickets are limited, and can be purchased right here on-line or in-store. Guests must be 19+ to attend.
$10.00/per person + tax
Spaces are limited, book today!
Next Event: Dec. 14, 7 - 9pm
Buy Tickets Now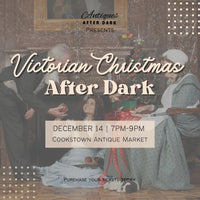 If you are near Cookstown, make a point of stopping off at this great antique barn. Very helpful staff and a great selection of antique and vintage treasures. Well worth the stop.

William Sanders
Going there is like a travel in time. At least for me. I use to spend hours enjoying all the unique items there.

Annie Vellie
A must visit and see! A true nostalgia trip. Two floors of items of all kinds from early 20th century and earlier. Many affordable items for any purse.

Eric Bojmelgrin